In June 2022, MedAi started a case-control trial study in Bangladesh to assess the effectiveness of its AI-driven digital health platform in delivering essential healthcare services quickly and efficiently. Our trial population consists of 2,500 workers, mostly female, from the Ready-made Garment (RMG) industry working in two different locations. A detailed write-up about our pilot design can be found here. With this trial, we aim to develop an understanding of the current healthcare challenges faced by patients in the lower socio-economic groups, their attitudes towards digital healthcare access and challenges adopting it, as well as optimize our digital health platform to ensure easier patient onboarding and overall better healthcare experiences.

It took us almost three months to have all the necessary pieces in place for the trial to start smoothtly. It has been truly enlightling journey in so many different aspects that it deserves a long piece to do a proper justice to each segment.
The Healthcare Dillema of RMG Workers
The Ready-made Garment or RMG industry accounts for almost 80% of Bangladesh's total export earnings, a whopping 31.45 billion USD in the fiscal year 2020-21. Nearly 5 million workers, mostly females, work across 4500 factories to keep this mammoth industry going. Despite their vital contribution to the current economic stability of the country, their physical and mental welfare is left to the factory management's discretion and the landscape varies dramatically.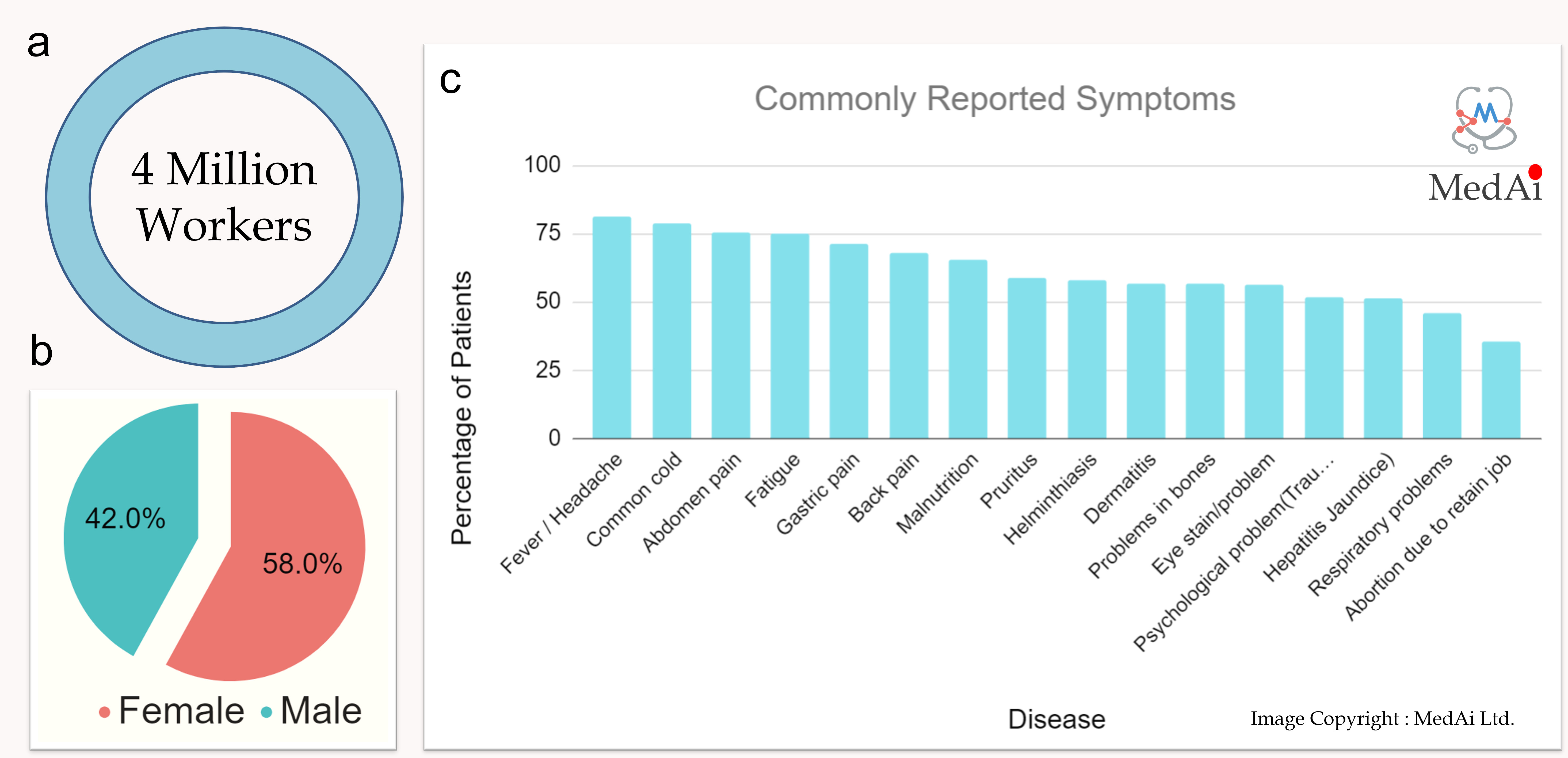 Figure 1 : An overview of the RMG industry (a) Total number of workers (b) Breakdown of male and female workers (c) Common symptoms repoted by RMG workers [ Ahmed & Raihan, et.al, 2014 ].
While some affluent factories offer a range of welfare benefits such as regular health checks through in-house doctors and childcare facilities most factories offer next to nothing. We spoke to seven different factories in Bangladesh with the workforce size ranging from 2500 to 20,000. The two large ones have in-house doctors to offer basic medical checkups. Both doctors are recent graduates with little experience with the wide range of chronic complications these patients face. Three factories have part-time doctors who visit once a week each visit lasting only a few hours. The remaining two only have doctors on paper to fulfil the compliance obligation. A doctor shows up once or twice a year during compliance with the inspections. So, essentially most RMG factory workers, even the ones that have inhouse doctors, do receieve sufficient level of healthcare attention from their employer.
Outside the working hours the workers, whose average monthly income is less than $100, are left on their own to sort out the health issues of themselves and their family member. It is common for RMG factories to cluster outside cities in large industrial zones with sparse and often underfunded public medical facilities. Due to the unavailablity of public medical facilities and the high expense associated with reputable private practices, RMG factory workers do not seek medical attention unless it becomes an emergency. Each year out of pocket emergency emergency healthcare expenditure near 250,000 RMG factory workers are being pushed below the poverty line.
Finding the Right RMG Factory to Run the Trial
In April 2022, we began searching for the right partner to test our platform. In order to conduct the study, we needed two sites, one for the control arm and one for the intervention arm. In spite of the fact that many RMG factories did not have an in-house doctor to provide healthcare to their workers, many were reluctant to admit it due to potential compliance violations. Using personal networks and introductions from an industry leader, we have managed to hold discussions with seven factories and identified two that could immediately benefit from the trial. One inside Dhaka with around 800 workers and the other 20 kilometres outside Dhaka in an industrial zone with around 1700 workers.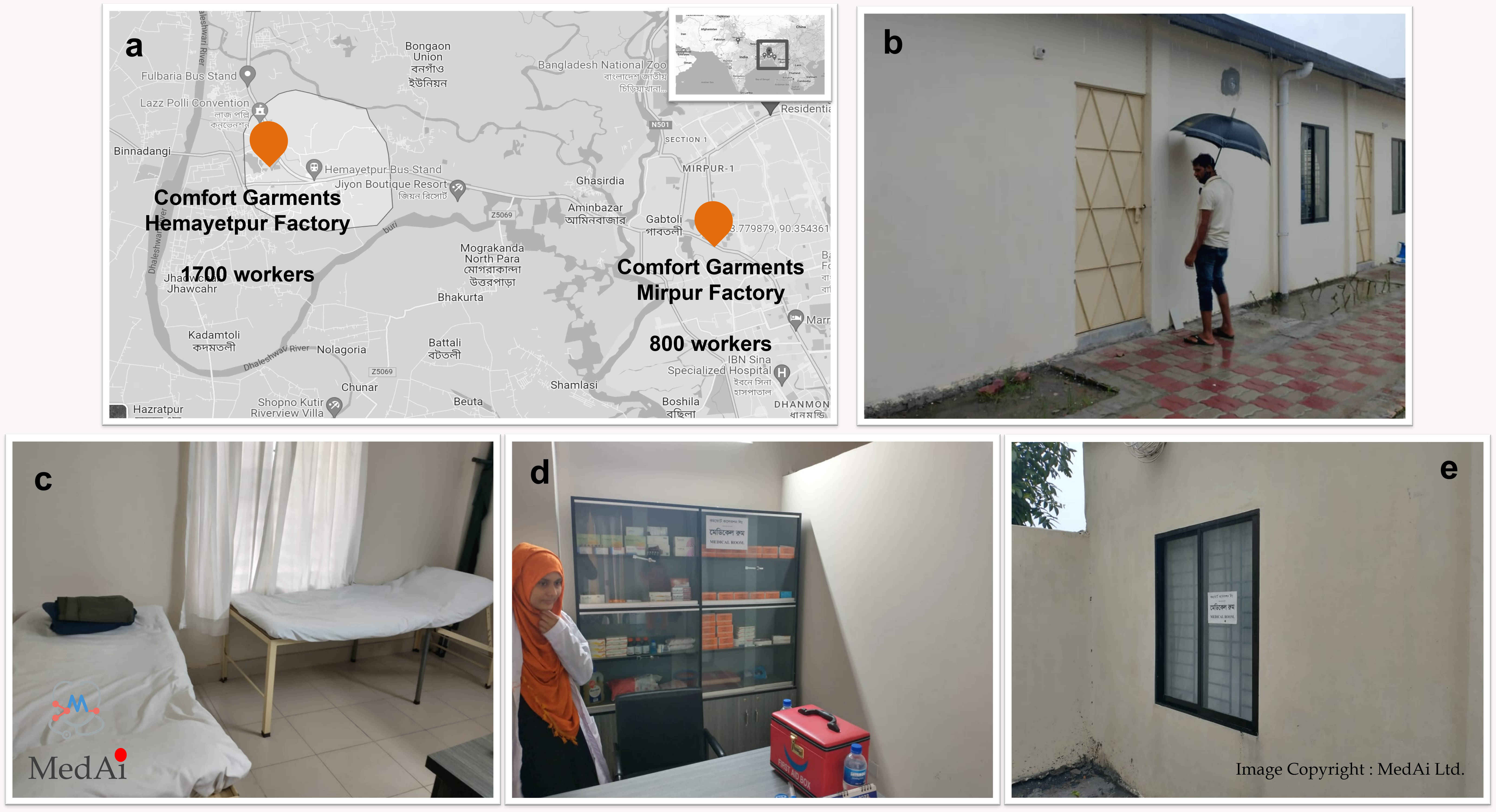 Figure 2 : (a) Location of two sites ( b-e ) current medical facility at the Hemayetpur site.
The management raised two concerns. Firstly, once initiated an abrupt closure of the healthcare service at the end of the trial might trigger dissatisfaction among workers. We assured them that at the end of the trial period we will migrate their workers to our telehealth platform where they will be able to access doctors even after working hours. The second concern was about the disruption in production. Most workers are part of different production lines where one product is passed on from one worker to the next. From raw material to the finished product a single piece of clothing can go through as many as 150 workers. So, during the working hours, which is usually Saturday to Thursday, 8 am to 6 pm including overtime, workers are not allowed to leave their station for more than 5 minutes apart from the 45 mins lunch break. To avoid any disruption in their day-to-day operation we arranged our medical team to be on-site from 4 pm till 8 pm in the evening so that workers can come and visit the doctor once their shift has finished.
Figure 3 : A typical production line in an RMG factory.
After we addressed their concerns they agreed to co-operate and allow us to run the trial.
Recruiting the Appropriate Medical Team
Our goal was to build a four-member medical team that could serve both sites. We planned to start with a general practitioner and expand to other specialties based on the initial data. With the help of our clinical advisory team, we interviewed eleven (11) doctors.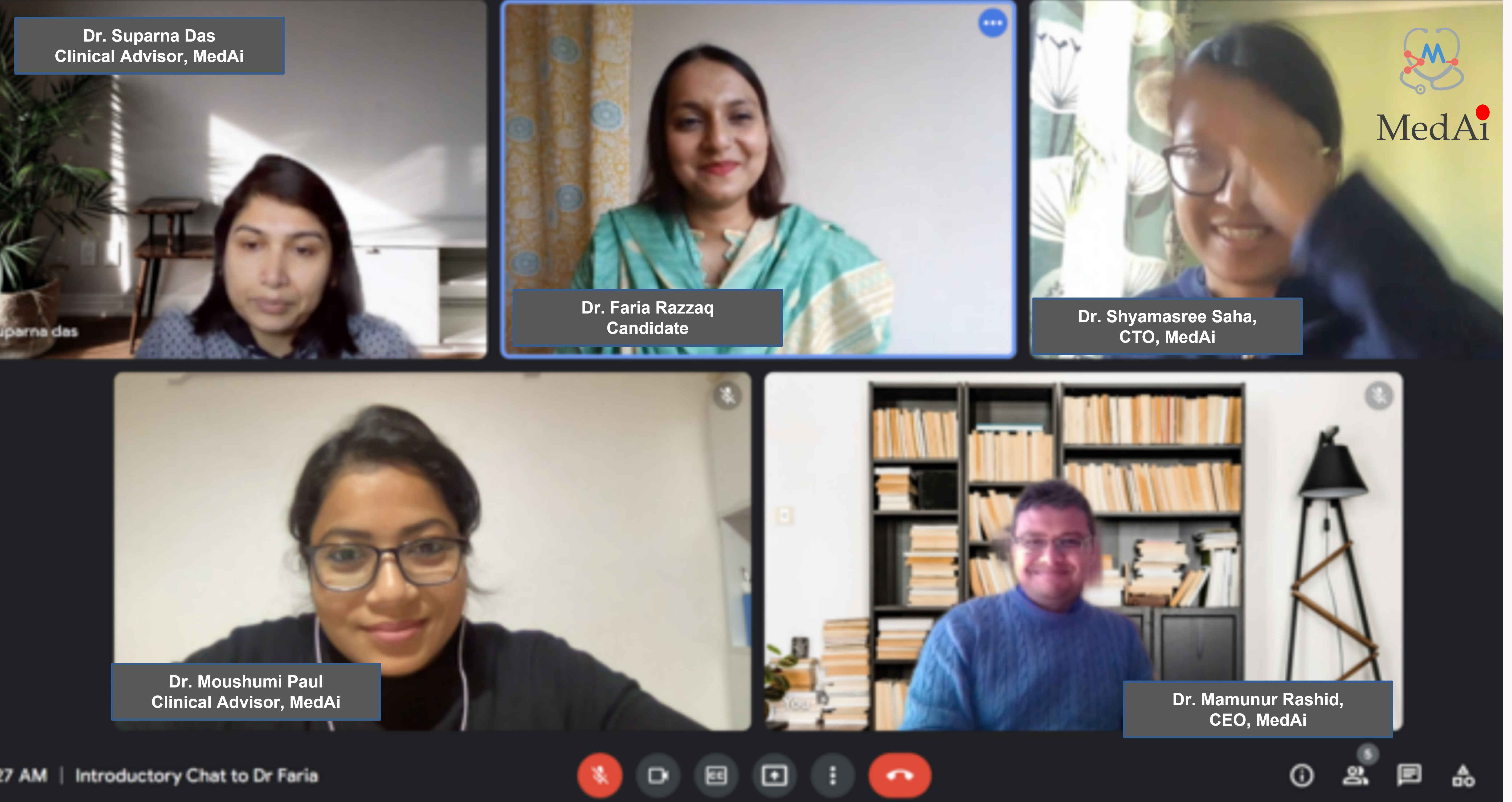 Figure 4 : Building the medical team.
From the shortlisted candidates, we recruited Dr Sumaiya Tasnim, a young enthusiastic general practitioner with more than four years' experience at Central Police Hospital, Dhaka. We are also in conversation with two more female doctors whom we will bring onboard within this month. We have also recruited Mr Shamim Ahmed, a young medical assistant to assist doctors and onboard patients on the platform. Given the clinic will be in an industrial zone outside the city, we also had to arrange transportation for the doctor as most female doctors we interviewed were reluctant to work without a transportation service.
Our greatest concern during the interview process was that instead of being motivated by serving patients, young doctors are already driven by profit from private practices and see each patient as an opportunity to generate revenue. There were several candidates who were keen on charging per patient, despite the position being advertised as a fixed salary general practitioner to assist low SEC patients. Interestingly, two candidates were only interested in working as on-paper doctors, where they would show up once a month and take a salary.
Our Clinic
After two months of hurdles, the control arm of the trial finally started on the 8th of June, 2022. The medical assistant registered walk-in patients electronically using our mobile application, where their vital signs, medical history, current medication, allergies and first symptoms were recorded before the consultation process. Additional symptoms discovered during the consultation and the prescription are recorded in the system after the consultation.
We were overwhelmed by the response on the first day as nearly 50 patients showed up. A total of 25 patients were seen by the doctor, and the remaining patients were asked to come back on the next clinic day. The number of patients per day decreased after the second day and settled at around 20.
So far, we have treated around 200 patients with problems ranging from minor headaches to diabetes, malnutrition, cardiac problems, kidney disease, and more during the eight days of clinic in June. Our team regularly monitors the blood sugar level, blood pressure, vision, and recurrent urinary infections of around 25 patients.

Figure 5 : Numbers from the first month.
Lessons So Far
In this short period, close interactions with patients allowed us to gain a better understanding of their perspectives on healthcare, their challenges and possible avenues to address them. We have tried to capture them in the table below.
| ## Challenges ## | ## Possible Solution ## |
| --- | --- |
| Patients who were prescribed diagnostic tests do not return to the clinic as they are often unable to pay for the test. | We have contacted several local private diagnostic labs to see if they might be willing to offer diagnositc tests to our patients at an affordable rate. |
| Many patients do not continue the prescribed medication. This is partly due to the cost and part due to lack of awareness. | We have been in touch with couple local pharmaceutical company to arrange free or subsidised medications for the patients |
| Due to workload, overtime work and restrictions on leaving work station patients with long-running complications are not always able to visit the doctor on the clinic day. | |
| Healthcare of their family members are also a major concern for many workers and many enquired about the possibility of including their family members in this scheme. | We are trying to organize a weekend clinic that will offer the workers a greater flexibility and also allow them to bring in their family members |
| Patients seriously lack the proper level of health literacy to manage their condition at home. Despite having a smartphone very few have used technology to seek medical help. It would require a considerable amount of training to enable them to use technology for better disease management | Our team is considering facilitating a paid workshop for 50 workers to learn how to access healthcare services using the MedAi mobile application. |
Where do we go from here?
The pilot will run for three more months and our aim is gradually migrate the workers to MedAi digital health platform, which will enable them to access a greater range of healthcare services and expertise through the mobile application.

Figure 6 : Roadmap till the launch in October, 2022.
Over next three months our goal is to :
1. Conduct user experience (UX) sessions to ensure smooth patient onboarding process, improve our AI guided virtual medical triaging system, refine our recommendation engine and enhance overall user experience of our mobile application.
2. Recruit ambassadors and organize user training sessions within the RMG factory. These users will also act as the first trial users for our AI driven telehealth platform.
3. We will also expand our inhouse medical team and train them to take advantage of the AI based recommendation system for faster diagnosis. These doctors will use their networks to build the first panel of external consultants on the platform.
4. We will also try to engage with local pharmaceutical companies to evaluate the possibilities of establishing a partnership. We will also communicate with local and global organizations that currently work with low-SEC patient populations.
5. Finally, we aim to launch our MedAi digital health platform with a range of healthcare services by October, 2022 .
MedAi is driven by one mission, leverage artificial intelligence to eliminate healthcare inequalities across the globe. This pilot is the first step towards that mission. Keep an eye on this space to learn more about our journey.
Dr. Mamunur Rashid
CEO & Co-founder, MedAi
mamun.rashid@medaihealth.com 11th July, 2022
Dhaka, Bangladesh
---------------------------------------------------------------------------------------------------------------
You Might Also Like
---